Over the past month or so, my thoughts have been a lot on a couple big events coming up - one of them being my 18th birthday at the end of March. Usually we are allowed a birthday party every other year, and this year being my 18th and then two years from that would be my 20th, I felt this would sort of be my last "normal" birthday party. Although, you never grow out of getting together with girl friends, so I am guessing that is what will be done come birthdays after this.
Now that maybe some of the invitees are reading this, I don't want to give to much away! But here is the picture of inspiration for some of my decorations..
I am busy planning the decorations along with invites, food, games, and all those fun things!
Another HUGE thing we are planning for is my graduation!!! My dear
Mom
has been busy working on the scrapbook, getting that up to speed. And my Grandma and Grandpa bought me a graduation ring.
I didn't want anything big, so I think the size is perfect, even if the wording is hard to read; written on it is "2012 Prairie Bible 2012" (our school name is Prairie Bible Academy).
We are also looking at diplomas, tassels, and other things for the open house, like cake and colors for decorations. I opted for not having a ceremony - I don't really need to give a speech! :-) Another special thing I am looking at is a new dress (worn for the first time at the open house, but then something I can wear again and again after), I am thinking 50's....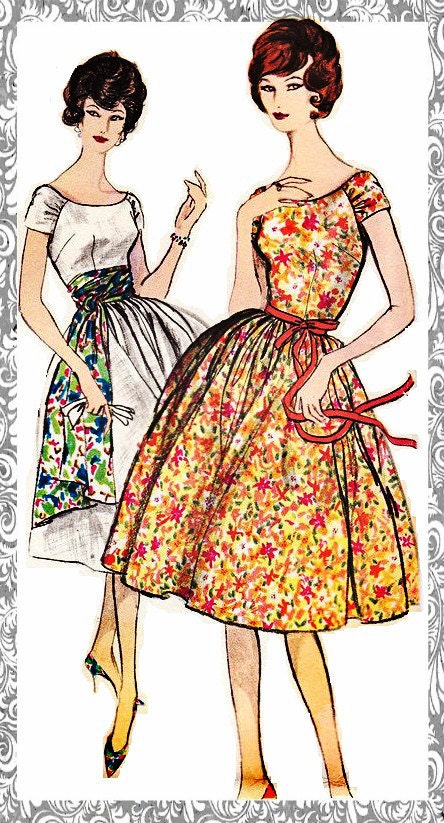 From this pattern (made by EllyenaMarie at Etsy),
probably in this fabric.
And, to answer to age old question of what I'm going to do now...
I would mainly some day like to fulfill the Biblical role of being a keeper at home! I like some of the thoughts I got from "Raising Maidens of Virtue"; it says in 1Timothy 5:14
"I will therefore that the younger women marry, bear children, guide the house, give none occasion to the adversary to speak reproachfully.".
If that is the Scriptural norm, why aren't we focusing on training for that!? And I do not plan to get a job just in case I don't get married - you don't see engineers going to school to also be a doctor just in case they get layed off!
I would also love to someday soon have my own home business selling crafting items, although I do not have firmly set what I would like to do. I am interested in sewing aprons, dish towels, pillow cases, making jewelry and cards and other things in a vintage/whimsical style.
Thank you for reading!!
Blessings, Amber