MACHE stands for Minnesota Association of Christian Home Educators, and each year they have a conference with lots of speakers and books for sale!! And this year was extra fun...
It was actually Anna and my first time going to MACHE and we worked at the keynote speaker's booth -
Sermon on the Mount
. He takes horses and uses them to talk about Christian character traits and such. Well, at the booth we sold his books & DVDs, filling out the forms and informing people about his things, fetching things from the back and restocking them. The first day was busy, but we did have lull times to shop around or get caught up at the booth. But the next day was like a rush that never ended!! We were sooo busy, I think that has been the most sales they ever had! It was a crazy couple of days, we got to go in the "authorized only" section :), the Mallys were there, and Mom got to wait on Mr. Mally.
And Sermon on the Mount was soo nice, they let us take home some things for free, and then I guess we didn't take enough because just a couple days ago we received a box in the mail with even more things!! That was very nice!!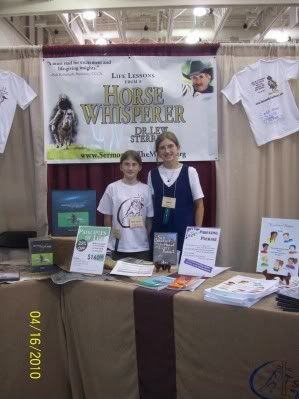 Anna and I at the booth.
We didn't have much time to spare, but I did get to meet one of my favorite authors - Lois Walfrid Johnson!!
Thank you for reading!
God Bless, Amber